According to JSOnline's Mary Louise Schumacher, Janet Zweig's public art project, which has been in the works for three years, has come under scrutiny despite receiving "unanimous support from an advisory committee of business leaders and art experts." Zweig's installation would essentially consist of five kiosks that would contain flipbook–style animations mounted in retrofitted transportation flap signs that one might have seen in train stations before everything started going digital.
But several of Milwaukee's Aldermen don't seem to understand the goals of the work. Alderman Wade said he was "not impressed with [Zweig's concept] at all" citing the outdated technology used to imbue the quietly animated scenes with life. Alderman Joe Dudzik agreed. Alderman Robert G. Donovan walked out early (classy) refusing to have his name attached to "something as ridiculous as that."
Okay, so here's a related tangent. I stumbled across a website called Virtual Stapler that contained a mini flash app with three staplers to choose from. They ranged from heavy duty down to a cheaper plastic. A user could select a stapler and when the mouse cursor ran over the top, the stapler was lightly pressed so that it just touched its opposing side, clicking with the sound of metal on metal contact. When the mouse was clicked, the stapler let out a mechanical "KA–THUNK" as if a staple were forcibly pressed from its group and spat through the opening with its ends folded inward. When the mouse was released the stapler let out the expected guttural vibrations as its springs returned it to its open, natural form.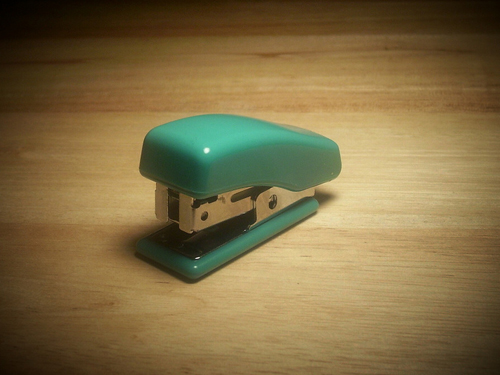 Stapler in Spotlight by InsideGift
It was a simple application with very simple animation with only a few seconds of sounds, and while I played at the site for several minutes, going down through the staplers and then back up again, clicking them slowly and then quickly, reveling in this simple joy, I couldn't help but get the feeling that this visual representation, well, it just wasn't good enough.
I could hear the noise, but it was detached from the feel and the force it takes to operate a real stapler. It was a decent replication that brought back a flood of memories of trying to manipulate the teacher in letting me staple all the kids' assignments. But this didn't have that visceral feedback. Tik, press, SLAM, spring. SLAM spring. Tik, Cluuuck, spring. Mmm…it's a treat for your ears. But I was missing the release of the gears and the pressure of the springs. The feeling of durability, and the delight of metal sliding in and out of its housing. I wonder, if we'll be feeling the same way twenty years after the iPod?
Anyway, I first found out about Zweig working in Milwaukee about three years ago when the project was just barely coming into fruition. I was curious. When I went to her site to check out her previous work I was particularly intrigued by her New York subway piece, "Carrying On." It looked cute and I thought it was easy enough to understand: icons of travelers in the subway. Simple enough. Two years later I visited New York, and by that time Zweig's work was a fuzzy memory; I wasn't particularly there to look at it, nor could I say was I expecting to run into it. New York was big. Dazzlingly big. It's as fast paced as a busy ant hill but when I rounded the corner of Prince Street Subway station I was bowled over by the sight of her work. There it was. I stopped my conversation and the world around me fuzzed out while Zweig's work became more clear. These weren't representations of New Yorkers, they were New Yorkers. Each of these avatars was a person from the city, and every person in the city was living on the walls. No, there weren't 19+ million people on the walls, but if you were to ask each citizen in which silhouette they saw themselves, each person would have an answer.
They were New Yorkers in two dimensions. Each quietly living out their lives on the walls. Each cut from steel, marble and slate, materials that have existed for at least 4,000 years (steel being the obvious youngest). Each material was sitting in the earth, waiting patiently, some even traveling hundreds of millions of years through time so that its lifeless mass could make a meaningful connection, could make someone stop in their tracks. Art is not necessarily about being at the cutting edge of technology. In fact, given the scope of artistic endeavors in general, it rarely is. Zweig's work is about finding the right materials that represent the humanity of our city, and if there is one thing that's always said about Milwaukeeans, it's that we're down to earth.
Think of those times when you plunked a quarter into those giant, metal tourist binoculars, listening to the ticka ticka ticka as the time counted down while you gazed at a skyline or monument through 20 pounds of steel and glass and the finality of the "THWACK" as the time ran out and the lenses went dark. Now imagine watching a high definition video on the newest technology of the exact same view; you could see the clouds move, the sun set and the cars pass in either of them, but it won't hold the same meaning.
Moving this project forward digitally would absolutely kill the beauty and personal investment in the project. Milwaukee's public art should bring its citizens to it, not let them passively watch it happen. The TV screens in our buses and cars have disconnected our neighbors from ourselves. Zweig's work is not a DVD to entertain the kids. It is a flip book to entertain the kid in all of us. Imagine the quiet buzz of the paper as it speeds through your fingers. The breeze on your face. The smell of the ink and fibers and glue. Think of the imagination that it takes to imbue the characters from these brief stories with life, history, and personality. These works are built on physical, tangible properties, not lasers and pixels and light.
This installation is real in the way that Milwaukeeans are real and Janet Zweig has proven that she understands the subtleties that resonate with its inhabitants.
Please take a few minutes to send a note to the Aldermen in charge and let them know that this work is an important investment to the city's public image. It's not as loud an press–worthy as The Bronze Fonz (sad, but unfortunately true) but it shows a simple sign of sophistication beyond beer and cheese. (It's easy. Write one note and CC everyone)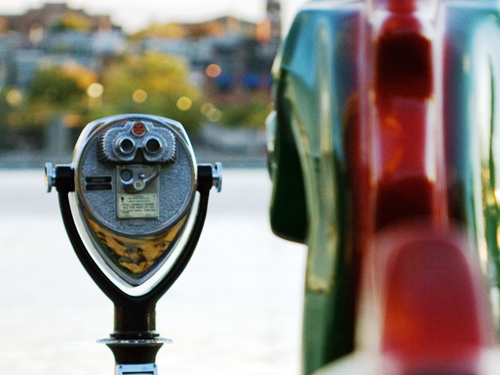 Archived Comments
These comments were pulled from the archives after a site failure in mid 2014. Though I no longer accept public comments on my site, I've included them for posterity. If you'd like to submit a comment, send one to littletinyfish@littletinyfish.com.
To add to your "the feel of real" argument, why do you think so many digital cameras make a shutter noise? Because we like the mechanical sound of it. And as much as I like my digital camera, my film cameras feel really nice sometimes. You'll even hear people complain that their digital camera feels "cheap" because it's light. In a digital world, humans still have an affection for analog.